This Seagate Rosewood series drive was mailed to us by a customer that reported the drive was not showing up on their computer when they plugged it in. The Rosewood series drives are very popular and are found in the popular Seagate external drives. The most common models we see are the ST2000LM007 like this drive and the ST1000LM035. If you need affordable data recovery for your Rosewood drive, we can help!
Seagate Rosewood Recovery
Once the drive arrived, I started with an inspection of the ST2000LM007 2TB mobile HDD and everything looked good physically with the drive. When I plugged the drive into my PC-3000 recovery rig I heard it spin up and everything sounded good as well. I moved on to checking the firmware as this particular Rosewood series of Seagate drives seem to be prone to firmware issues.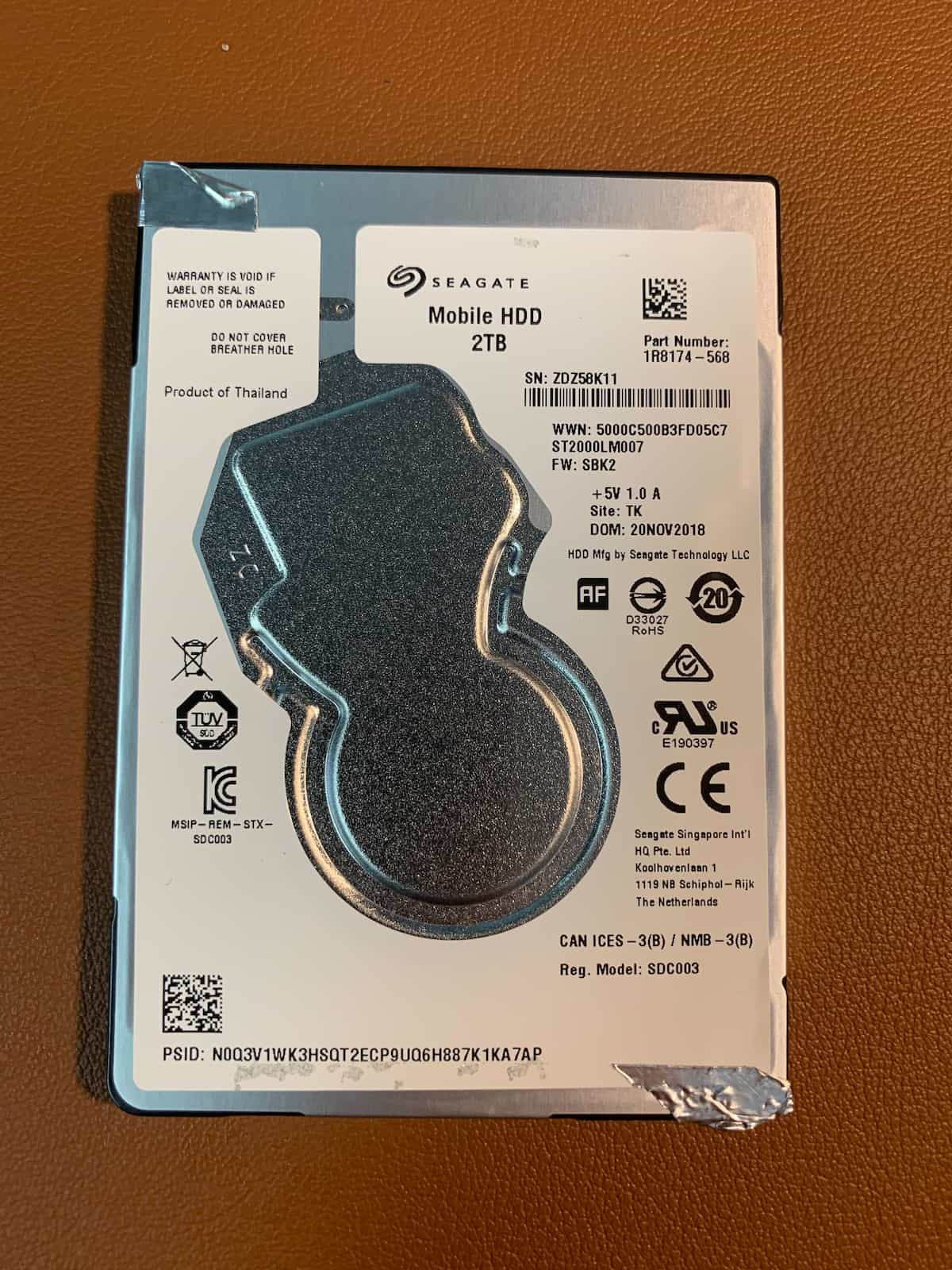 Patch and Unlock
This is a Seagate Rosewood drive, so it is necessary to patch and unlock the terminal before having access to the firmware of the drive. When these drives first came out, ACE labs had to create the tools and procedures in order to allow us to access the areas of the drive's firmware that we need to access during many recoveries. Thankfully those tools are released now, so the success rate on these Rosewood drives is quite high.
Once the process of patching and unlocking the terminal access was complete, I was able to clear the firmware modules that were causing the drive to not be able to work properly, and moved on to the imaging process. Sometimes firmware issues are caused by other problems like bad sectors or weak heads, but in this case, everything else on the drive ended up testing good.
Imaging the Mobile hard drive
Once the firmware issue was addressed, the imaging process went very smoothly. I was able to image 100% of the sectors on the drive with a single pass and the partition looked good with no corruption! All folder structure was present and I saw a Backups.backupd folder which means this drive was being used for a Time Machine backup drive.
Time Machine Considerations
This ST2000LM007 hard drive was being used with a Mac, and the customer had it set up as a Time Machine backup drive as well as an archive drive. Because Time Machine was being used with this drive, I went ahead and used my favorite method to clone the time machine data over (using SuperDuper! as outlined in this Time Machine data recovery post).
Once this data recovery process was complete, I mailed the recovered data back to the client and they were pleased to have all their important data back, safe and sound.
Have us recover your Rosewood drive
If you have a Seagate Rosewood drive that needs recovery, I offer my services nationwide via my mail-in service. Basically, you just fill out my data recovery form, mail the drive in for recovery, then I recover the data while keeping you informed of the progress, and mail the drive back to you once the recovery is complete.
Feel free to contact with any questions regarding your data recovery situation. You can give me a call at (620) 615-6836, or fill out my quote form and I will get back to you ASAP. I look forward to helping you get your important data back!
Data Recovery Drive Info: SEAGATE Mobile HDD 2TB, WWN: 5000C500B3FD05C7, ST2000LM007, FW: SBK2, Site: TK, DOM: 20N0V2018
About Author