Helping people get back their important data is one of the things I truly enjoy about Data Recovery. It is especially rewarding when you can help someone you know personally get back data that is important to their family.
There is a local farm called Jako where my wife and I love to purchase items we don't currently have the ability to produce ourselves (like raw cow's milk). The family-run farm is a great example of what we love about our area here in Kansas. 
I handed a business card over just in case they needed data recovery in the future. About a month later I got a call that their Mac Pro went down with some important excel sheets and they needed help getting the data back.
Mac Pro Data Recovery Diagnosis
The Mac Pro was one of the huge models with 4 drive bays of which all had hard drives installed. These towers weigh about 70 pounds fully loaded so they are quite a beast. The first step was to figure out which drive was the boot drive and if that was the drive that was having issues. I pulled all the drives and tested them out one by one.
Only one drive was having issues, and this drive ended up being the boot drive. The hard drive was a 500GB model from Seagate. Model number ST3500641AS, an older Barracuda drive from 2006. That put this drive at 15 years old, which is a good long life for a hard drive that sees almost daily use.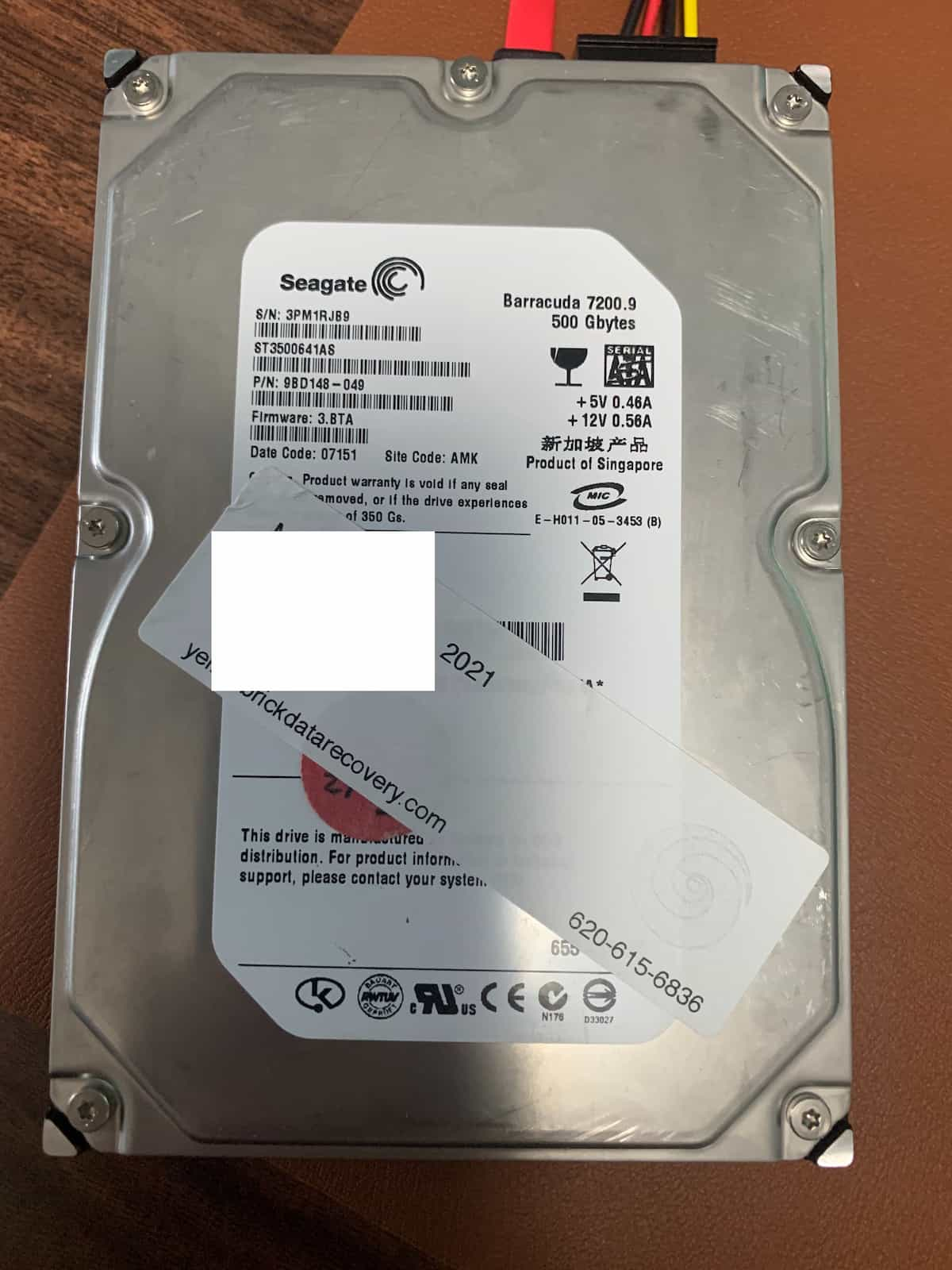 Seagate Firmware issues
I connected the ST3500641AS hard drive up to my PC-3000 to diagnose what the issue was. The issue with the drive ended up being firmware-related problems. These types of issues can vary from simple fixes to days-long repair processes. In this case, it wasn't too bad! I was able to get the firmware repaired enough to image the drive within a day. Normally with older drives, if firmware issues are present, they are usually a symptom of a deeper problem.
Imaging bad sectors
With access to the data on the drive, I went ahead and configured the drive for imaging. During the imaging process, I found some areas with bad sectors. It is pretty likely that bad sectors on the drive caused the firmware to get corrupted. Usually, in cases like this, no data is stored in those bad sectors, so not getting them back isn't an issue. In this case, I got back as many sectors as I could and ended up with 99.999% of the sectors on the drive being recovered. 
Now that I had an image of the drive to work with, I ran data recovery software to scan for data. I was able to get back all folder structure and file names so I went ahead and transferred the recovered data over to their new drive. During the data transfer, I didn't get any errors on the actual data being recovered, so this Mac Pro data recovery was very close to 100%.
Nationwide affordable data recovery
I am always very pleased to help a neighbor out like I was able to do with this Mac Pro data recovery. But I do offer my services Nationwide via my mail-in recovery service. I receive drives from all over the country every month from clients who are looking for honest, affordable data recovery. If you need help recovering a drive, please contact me with any questions. I am happy to help!
Drive info: 500GB Seagate Barracuda ST3500641AS, P/N: 9BD148-049, Firmware: 3.BTA, Date Code: 07151, Side Code: AMK, Product of Singapore