Dropped WD10JMVW Hard Drive Symptoms
I received this WD10JMVW hard drive out of a My Passport from a client that had stopped working after being dropped. There were very important image, audio, and work documents on the drive when it was dropped, so they brought it in for data recovery.
They reported that the drive was making a ticking sound when plugged in, but would never be recognized fully by any computer they connected it to.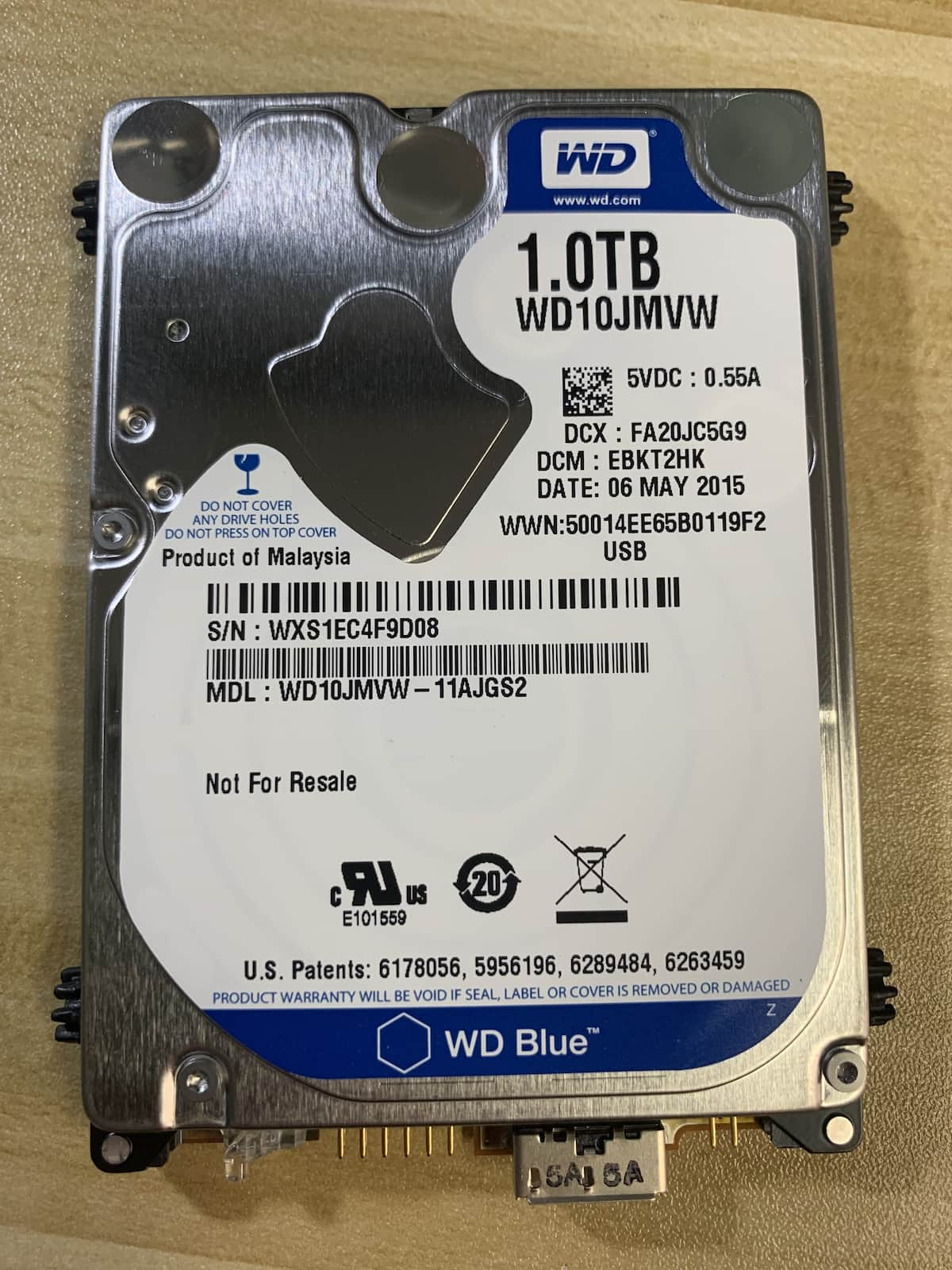 WD10JMVW Diagnosis
When a drive has been dropped, my first worry is always that the heads have been damaged and could be causing media damage when the drive is powered on. For this reason, I start with an inspection of the dropped WD10JMVW hard drive in my clean room to check for any damage to the heads or platters.
This particular drive looked great under the microscope. There were a few really minor areas with damage from what was likely the instant the drop happened, but no major scratching was present.
The heads were damaged and needed to be replaced. I had a donor in stock that works with this drive, so I was able to start on the head swap as soon as the client had approved the lab recovery. This drive is one of the FBLte family which includes the models ending with these numbers with another number after ..AJGS. ..JC3T. ..CYNY. ..N6G.. ..UE4T. ..D4FY. ..WPNY
Lab Recovery for WD10JMVW Hard Drive
The hard drive I had in stock was model number WD10JPVX-75JC3T0. While the model number appears to be very different from the original, they are compatible drives. I removed the working head stack from my donor drive and installed it into the customer's bad drive.
Utilizing a clean room environment for this process is important to ensure you don't get any dust or debris in the drive during the swap. If anything lands on the platters, it can cause issues when the drive is spun up with the new heads.
The head stack installation went very smoothly and I closed up the drive to start the recovery process.
Connecting the drive to my PC-3000 and applying power showed the drive getting ready successfully. I cleared module 32 which seemed to have some corruption, then continued with a heads test. All the heads tested good, but there were some areas on the drive that were not readable. This is likely where those small areas of platter damage were.
I set up the imager to do a quick pass and skip any areas that were difficult and ended up with over 90% of the drive recovered. I continued with more passes making them more and more intense to get back as much of the data as possible.
Software Recovery
Because the portion of the drive that holds the data about the folder names and file names was intact and readable, I was able to target the important files on the drive for recovery. 5 days after the drive was dropped off the data was ready for pickup with over 95% of it being fully recovered.
Get your data recovered
If you have a drive that has been dropped or has an issue with its heads, please consider us for your data recovery needs! I have experience recovering all drive types and models and can perform difficult lab recovery services for a fraction of the price charged by other clean room companies.
To start the recovery process, please fill out my recovery form. If you would like to know which data recovery tier I think your drive will fall into, please fill out my quick quote form.
Thanks for reading!
Drive info: 1.0TB Western Digital WD10JMVW, DCX : FA20JC5G9, DCM : EBKT2HK, DATE: 06 MAY 2015, WWN:50014EE65B0119F2, MDL : WD10JMVW – 11AJGS2, USB built in on PCB, Product of Malavsia, PCB: 2060-771960-000
About Author