Update Nov 2021 – This particular model, ST2000LM007, is part of the Rosewood family which I have a more in-depth blog post about titled Seagate 1TB Expansion External Hard Drive Model ST1000LM035 Not Mounting.
This Seagate Rosewood model ST2000LM007 drive came in as a referral from a local computer repair shop. The repair shop had tried to recover the drive with software based recovery methods, but could not get their computers to recognize the drive at all. The repair shop recommended their customer contact us for an affordable clean room data recovery service.
Rosewood head swap recovery
Once I received the drive I started the diagnosis process. A visual inspection in the clean room environment showed platter damage so I let the customer know it was unlikely to be recovered, unfortunately. There was visible damage to the top platter from a failed head and there was a good chance if I completed a head swap there would still be no data recovered from this drive as some firmware modules may be inaccessible due to damage.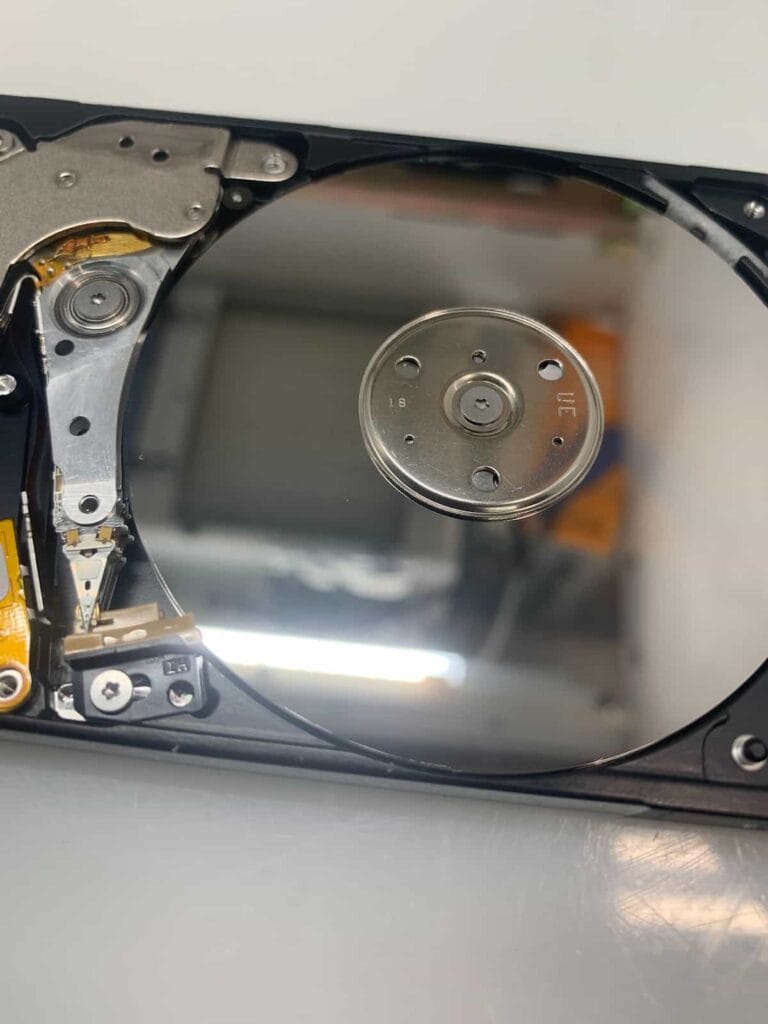 ST2000LM007 swapping heads
The client decided to go ahead with the head swap service anyway, so I ordered the correct donor and waited for it to arrive. Once the donor arrived I completed the head swap and was surprised to find the drive was responding properly and I was able to start the imaging process! When there is damage on a platter it is not unusual for a good head stack to go bad during the imaging process, so I went after the most important files first and got most of them back before the head stack did indeed fail again.
On this drive I started by recovering the area of the drive that holds the catalog file. This allows me to see what files and folders are on the drive, and where on the drive they are stored. I am then able to mark which files I want to recover, so I only go after the most important files. This is great because it allows me to recover just the important data and not a bunch of operating system or junk files instead of getting back the important ones.
Recovering additional data
I knew that while I got most of the important files, there was some data (baby photos in this case) that I was not able to get before the head stack went bad. In this case, I requested to order another donor drive so I could complete the head swap a second time with the hope it would work again long enough to get more of that important data. This is not something I always recommend, but in this case I thought I could likely get back more data with another head stack.
Successful Rosewood Recovery!
After receiving approval, I ordered another donor drive, and once it arrived completed the second head swap on this drive. Replacing the heads again with another head stack allowed me to get even more data back and I ended up getting almost everything the client wanted before the heads stopped working yet again.
I scanned all the recovered sectors to get back everything possible. The client was very pleased to get irreplaceable data back from this drive. It is rare for a drive with platter damage to be successfully recovered, but sometimes you just can't know for sure until you try!
Affordable data recovery options
If you would like help getting the data from your drive, please fill out my quote request form and I will get back to you on what I recommend. I offer an affordable alternative to the expensive big data recovery companies. I offer the same equipment and expertise as the big guys, but at a fraction of the price.
Thanks for reading!
Drive info: Seagate Mobile HDD 2TB, ST2000LM007, Part Numer: 1R8174 – 568
About Author