This 2TB Toshiba drive came from a local small business that creates custom T-Shirts. The drive had stopped responding after a power outage that occurred at the business location. The power outage was caused by a power surge in the area.
Power Outage Failures
For those keeping track at home, this was a Toshiba DT01ACA200 model drive. I generally find Toshiba 3.5" drives like this one to be fairly robust. With a power outage leading up to the drive failure, it was almost certain that the Printed Circuit Board (PCB) would be the issue with the drive. While a power surge can cause other damage to a hard drive (think head pre-amp or similar), the most common issue by far is an electrical failure on the PCB itself.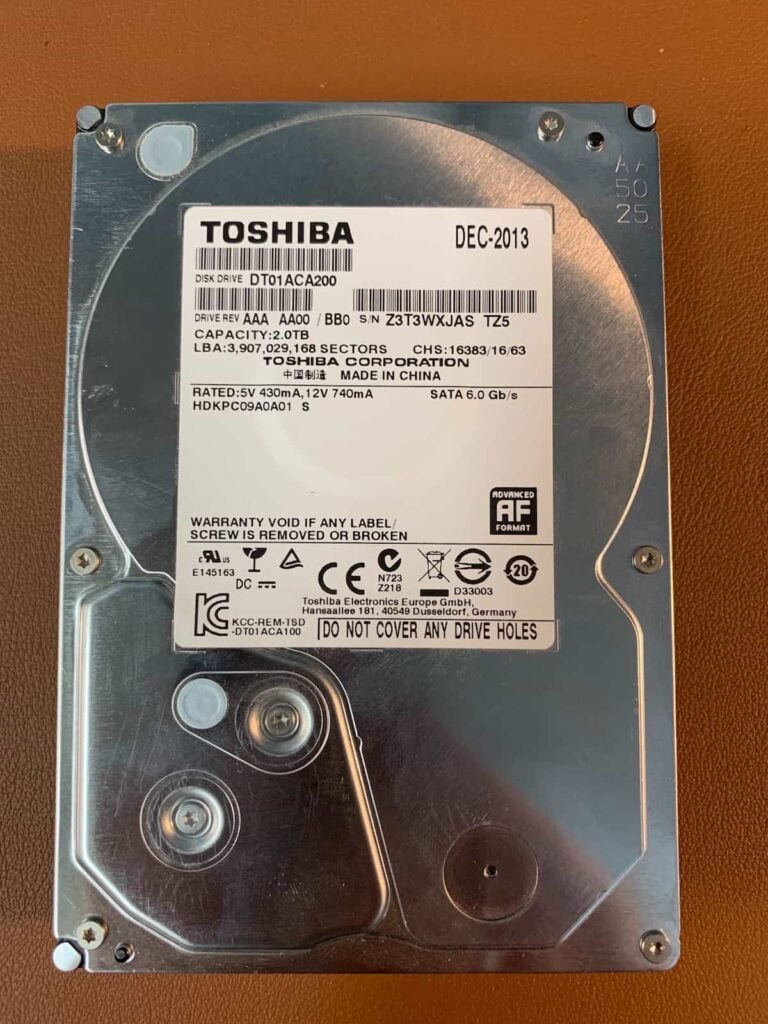 Hard drive not working recovery
The small business owner had brought this Toshiba hard drive to a computer repair shop in Wichita, who verified there was an issue with the hard drive and recommended that she call us directly for affordable data recovery services. While some computer repair shops are able to provide data recovery services, I believe the best computer repair shops know their limits and send drives to dedicated recovery labs when required.
In this case, some computer repair shops would have been able to recover this drive as the main problem ended up being the PCB, but if you haven't completed PCB swaps successfully, I don't recommend starting with a hard drive that holds important information. I have seen ROM chips that have been damaged during the process by technicians that are not familiar with soldering best practices. I have also seen quite a few ROM chips that have been confused between drives during the swap process, leading to a lot of confusion.
Swapping the PCB
Once the drive was dropped off I retrieved the PCB I had in stock that matches this drive's model. The ROM swap went smoothly and I connected the drive up to my PC-3000 for diagnosis. The drive did indeed power up and was recognized immediately by my recovery rig. All heads tests passed and the drive was running perfectly.
Imaging the DT01ACA200 hard drive
Even though it was fairly obvious that the PCB was the only issue with the drive, best practice dictates that you continue the recovery as if you were dealing with a fragile hard drive that requires the utmost care. I prepared the drive for imaging and connected it to my Deepspar Disk Imager to run a very gentle first imaging pass. Running the first pass to find problem areas resulted in no problem areas being found, and 100% of the sectors being recovered!
Recovering the important data from the Toshiba hard drive
Once the imaging process was complete, I continued on to using data recovery software to recover every file possible. The recovery scan brought back all folder structures with named files, as well as some files that had been deleted in the past. We were able to recover 100% of the important data so the small business owner could get everything running smoothly again.
As a small business owner myself, I truly understand how important it is to get up and running quickly after a piece of equipment fails. If you have a failed drive that is mission critical to your business and you need a fast and reliable data recovery service, please consider us! You can start by filling out a quote form and I will get back to you letting you know what price tier I believe your drive will be covered under.
Drive info:
Toshiba DT01ACA200, 2TB, DEC-2013, DRIVE REV AAA AA00 / BB0, MADE IN CHINA, CHS: 16383/16/63, HDKPC09A0A01 S
About Author