I remember the good old days when a "big" hard drive had about 120GB of capacity. Now when I get a big drive in, I am looking at somewhere from 2TB to 12TB of capacity. This particular ST8000DM004 data recovery was for an 8TB drive that had been inside an external enclosure.
ST8000DM004 Just Stopped Working
The Seagate hard drive was in use by a videographer based out of Wichita. They work on marketing and shoot HD video that is then stored on this 8TB ST8000DM004 hard drive. Unfortunately, the hard drive just stopped working one day, and they were not able to access any of their files.
The drive had been working great prior to the issue, then suddenly would not be recognized by the computer. They weren't even able to get the computer to recognize it enough to run software-based recovery methods on it.
Due to the 8TB capacity, this ST8000DM004 data recovery would fall under our Standard+ recovery rate. While this rate is a little more than our Standard recovery rate, it is still very affordable. Most recovery shops charge quite the hefty fee to recover a drive with this many sectors. The time involved in just imaging a drive of this size can tie up one of your data recovery rigs for a long time.
Also, this particular hard drive is currently very expensive for donor parts. Most of these ST8000DM004 model Seagate hard drives sell for over $300 in good working condition. So if you have a heads issue or some internal problem that requires parts, the donor part can really cost a lot for the recovery company.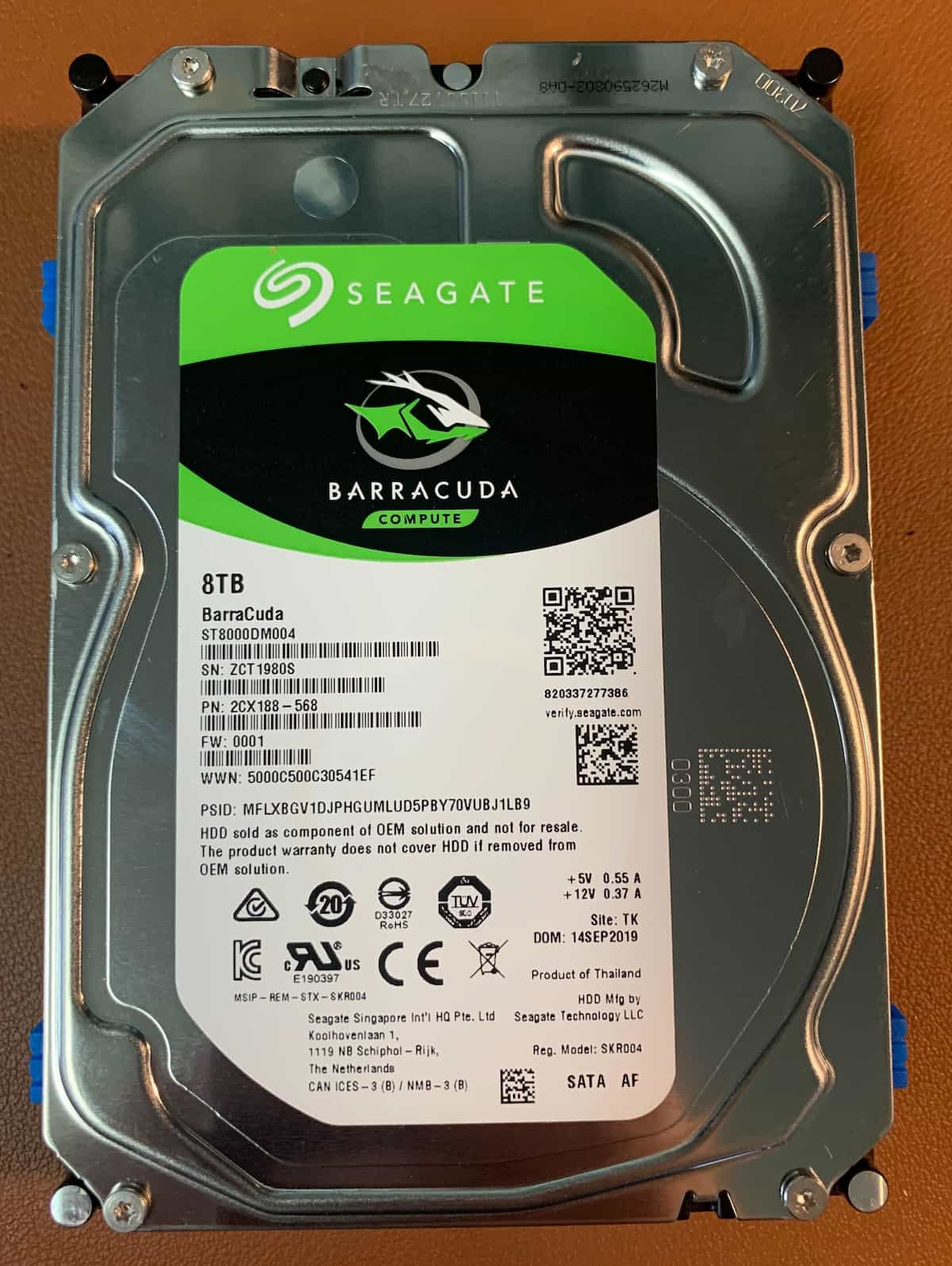 Firmware Issues
The car ride from Wichita isn't too bad, but since I find myself close to that area frequently picking up and dropping off drives from shops, I was able to find a time that I could get the drive from the customer. In this case, I met them after dropping my oldest off for his bass guitar lesson.
Once I had the drive the first step was to figure out what the issue was with it. I connected it to my PC-3000 and found that while it sounded great, it would not allow me to access the utility as I normally would. I had to do a ROM patch and connect via terminal to turn off firmware modules before connecting again with the utility.
Once I was able to connect with the standard utility, I had full access to the data! I ran a quick heads test to verify there were no weak or problematic heads, but they all passed the tests. I started imaging the most important data first.
ST8000DM004 Data Recovery
Thankfully the drive was not encrypted, so I was able to target the most important files, then move on to recovering all the data present on the drive. When encryption is present on a drive of this size, it is always a worry that you may be recovering nothing of importance for an entire day before it finally gets to the sectors that actually hold the important information.
The cloning of the ST8000DM004 Seagate hard drive went very smoothly with a final recovery percentage of 100% recovered. I moved the good image of the drive to my software data recovery rig and ran my favorite data recovery programs to get back all the folder structure and file names from the hard drive.
The Best Data Recovery Service
There wasn't any corruption in the data, so everything came back perfectly and worked great! The videographer was very pleased to have all their work files back and was also pleased that the price was much lower than some other recovery shops charge.
If you have a hard drive that has just stopped working and you need the data recovered from it, please let me know! I would be very pleased to help you get your important data back. Just contact me with any questions or fill out my recovery form to get started.
Drive info: SEAGATE BARRACUDA 8TB, ST8000DM004, PN: 2CX188-568, FW: 0001, WWN: 5000C500C30541EF, Site: TK, DOM: 14 Sep 2019, Product of Thailand, Reg. Model: SKR004
About Author