This 1TB HDS721010CLA332 Hitachi hard drive recovery was mailed to us after it stopped being detected by the computer it was installed in. The hard drive was used to store family photos and videos, so it was important to get all the data from the hard drive! As a dad, I understand how important these recoveries are.
Mail-in HDS721010CLA332 recovery
The client had brought their HDS721010CLA332 model hard drive to another shop first to find out if the data was recoverable, but that shop was not able to get the data back. Thankfully, the shop recommended us to the customer as an affordable data recovery lab, and the customer mailed their hard drive in for recovery. We receive drives from all over the country for recovery, so if you have a drive you need to be recovered, we can help!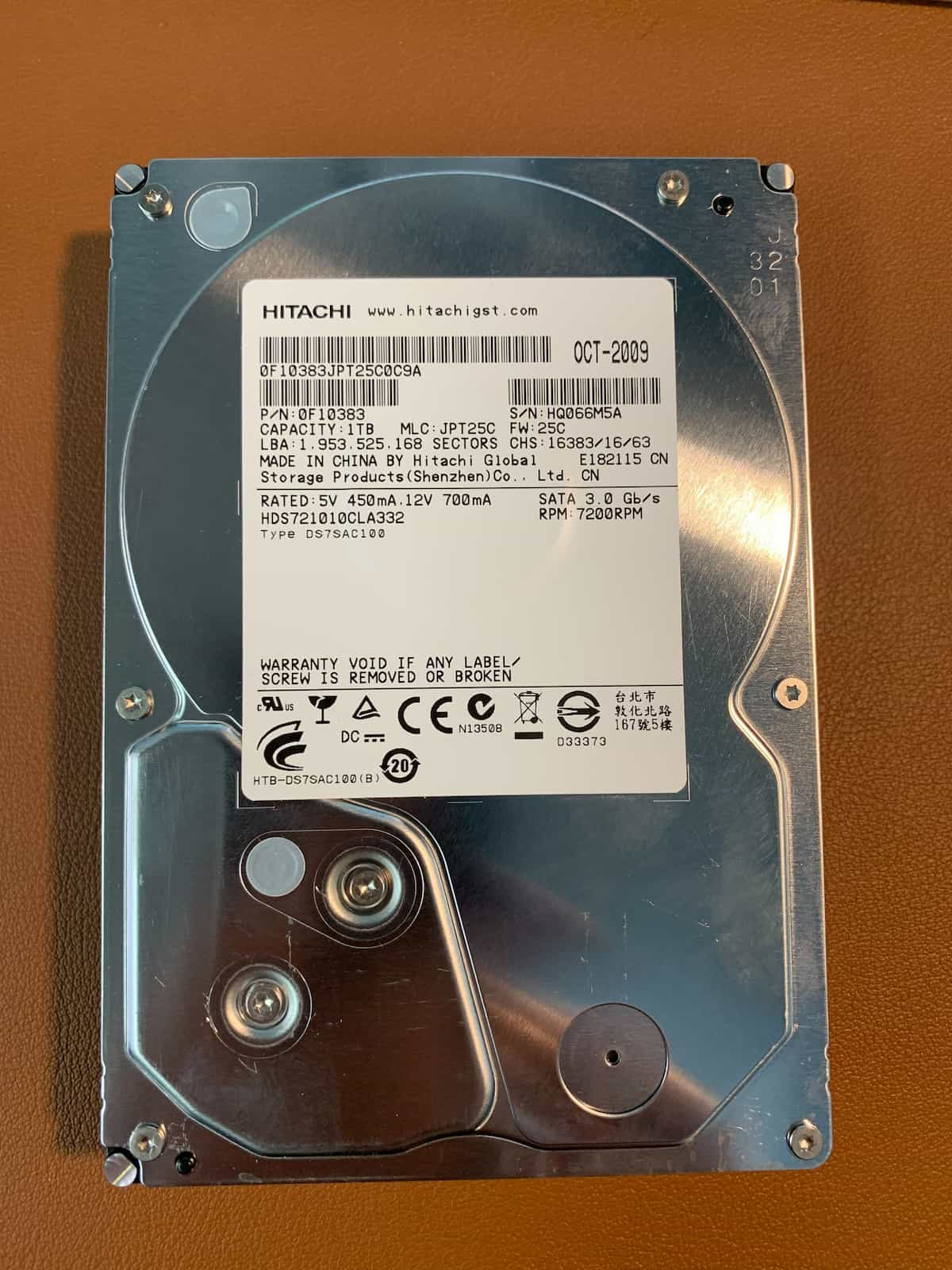 Diagnosing for data recovery
Once the HDS721010CLA332 Hitachi drive arrived, I started with an inspection and found that the issue with the drive was a slow head and some bad sectors. I turned off all the features of the drive that might interfere with the imaging process and set the first imaging pass to a very fast and very easy pass.
The first pass for this Hitachi hard drive recovery allowed the imager to quickly skip any areas on the drive that showed signs of having groups of bad sectors. This first pass took a lot longer than it would with a healthy drive, but the results were over 90% of the data recovered. This first pass allows me to see where the trouble areas are on the drive, and also get an idea of what settings I should use on subsequent passes.
Fully imaging the Hitachi drive
I continued with a second pass with slightly more intense settings to try to get back more of the sectors that were in the areas of the drive that the first pass skipped. I always try to stress the drive as little as possible during this process. The idea is to slowly get back more and more data without stressing the drive too much.
The second imaging pass resulted in about 97% of the sectors being recovered, but it took a long time to complete. I then continued with 3 more passes, each one getting progressively more intense to try to get back as many sectors as I possibly could. After 7 days of imaging, I had 99.99% of the sectors and was able to get all their important photos back!
Cost of Hitachi hard drive recovery
This HDS721010CLA332 hard drive was one of those times where the recovery falls under our standard flat rate, even though it took a lot longer than most of the recoveries that fall under that tier. The client was very pleased with the results (and with the reasonable recovery fee).
I strive to offer the best Hitachi hard drive recovery service possible. My in-house clean room environment allows me to offer lab recovery services that most shops are not able to offer. I take pride in the quality of my work.
Start recovery process
If you have a drive like the Hitachi HDS721010CLA332 that has stopped being detected by your computer and you need the data off of it, I hope you will consider reaching out to me with any questions you have regarding my recovery process. I would be very pleased to help you recover your important data!
Please give me a call at (620) 615-6836 with any questions or to set up an appointment to drop off or mail in your drive. Or you can fill out my online quote form so I can tell you which flat-rate service I believe your drive will need to be successfully recovered.
Drive info: HITACHI 0F10383JPT25C0C9A, P/N: 0F10383, MLC: JPT25C, FW: 250, HDS721010CLA332, OCT-2009
About Author