My Passport stops showing up after drop
This Western Digital My Passport external drive was dropped and then stopped showing up on the client's computer. The client initially took the drive to another recovery shop that was nearer to them but were told their My Passport drive could not be recovered by them. Thankfully, the shop referred the client to us for My Passport data recovery and I was able to successfully get back their important data at an affordable price!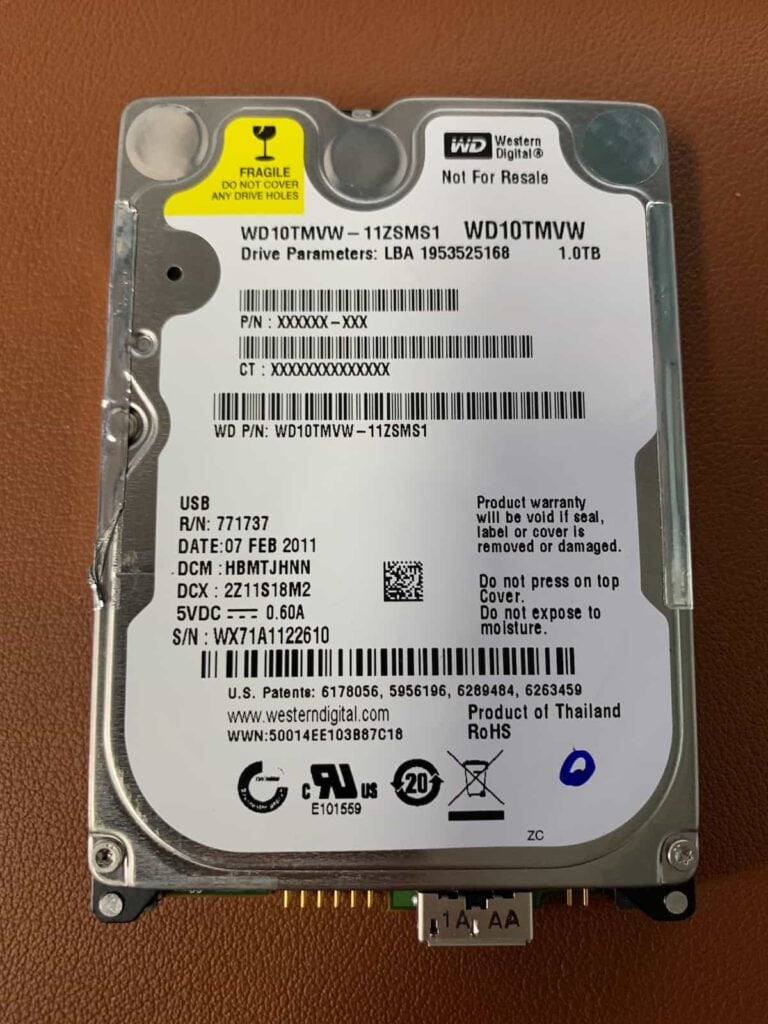 Swapping the PCB
Once the My Passport was received I started with a recovery diagnosis. This particular My Passport had a WD10TMVW model hard drive inside. This particular hard drive has a PCB board with a USB port directly attached to the board. This means that the data recovery tools (which are designed to work with regular SATA connections) can't connect to the drive directly. I started by swapping out the USB PCB with a donor PCB with a SATA connection.
It can be very difficult to find the PCB with the SATA connection that is compatible with this WD10TMVW model drive. Thankfully I have them in stock so I don't have to source them, but a recovery shop that needs this model PCB needs to be prepared to spend hundreds on one donor part.
Imaging the drive
Once that was complete I was able to access the data on the WD10TMVW hard drive, so I completed the drive pre-configuration steps and started the imaging. There were a lot of areas on the drive that were not being recovered, so I asked the client if they would like to proceed with replacing the heads inside the drive. I let them know that I was able to recover a lot of the data (95% or so) without replacing the heads, but in order to get closer to 100% on this My Passport data recovery, I would need to replace the head stack.
Head swap options
This particular drive has very expensive donor drives on the market. It is difficult to source donor drives with prices often reaching $500+ for a good parts drive. In this case, the customer decided to just go with a 95% recovery without the head swap, so I completed imaging the drive and continued with the data recovery stage. The most important files were photos and documents, so with a 95% recovery it usually ends up being about 85-95% of the files that are recovered. If long videos were the most important file type, it would be a lot less likely to recover the full file (as videos are quite large).
Transferring the data to the new drive
Sometimes with partial recoveries, you aren't able to get the entire catalog file… but in this My Passport data recovery, I was able to recover the file names and folder structure. The client was happy they were able to get almost all their data back at a much more reasonable price than if a head swap needed to be completed.
My Passport Data Recovery Service
If you have a My Passport external drive that is not showing up on your computer and you need the data recovered from it, please reach out by calling me at (620) 615-6836 or fill out my quick data recovery quote form to get a quote on your drive. I look forward to helping you get your important data back!
Drive Info: WD10TMVW, WD10TMVW – 11ZSMS1, P/N • XXXXXX – XXX, CT : XXXXXXXXXXXXXX, WD P/N: WD10TMVW -11ZSMS1, DATE: 07 FEB 2011, DCM : HBMTJHNN, DCX : 2Z11S18M2, Product of Thailand