A computer repair shop in Wichita had a client come in with a Western Digital My Passport drive that would not mount on their computer any more. When it was plugged into a computer it wouldn't show up and the computer would not recognize the drive. When you listened carefully to the drive you could hear that it was not spinning up as it usually would.
The computer repair shop attempted to mount the drive on their shop computers to get the data, but the drive continued to light up but not show up on any machine. Once I received the drive I opened the enclosure and found a WD10JMVW 1TB 2.5 inch drive inside with a USB connector built in. Opening the cover of the drive in a clean room environment allowed me to see that the drive heads were stuck to the platter surface. Because the heads were stuck the drive would not spin up and work.
The first step in these cases is to carefully move the heads back to the proper area. To accomplish this you use a tool that separates the heads from the platter a little and allows you to move the assembly without scratching the surface of the drive. Once the heads are moved the next step is to inspect the heads with a microscope to check for any damage. If there is any damage at all to the actual heads you would want to complete a head swap first before further testing.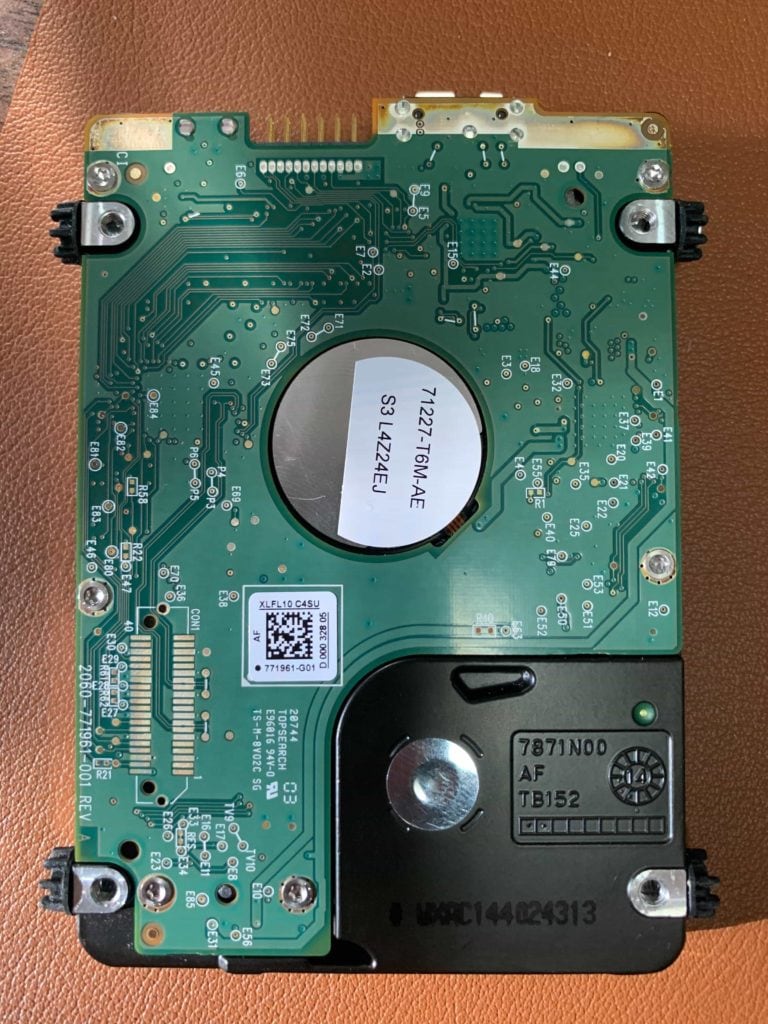 In this case the drive had no visible damage on the heads, and the platters looked good! Applying power to the drive showed that the platters spun properly now, but the data recovery rig was still not able to access the data on the platters. Completing some general troubleshooting processes with the PC-3000 did the trick and the drive started reading properly. I was able to image the drive without issue and got 100% of the sectors imaged.
Once the image was complete I scanned the recovered sectors for data and moved it all to the drive the customer provided. All in all I was able to get 100% of the data from this My Passport, and the customer was very pleased to get their data back.
If you would like me to help with your data recovery project, please fill out this quick quote form and I will get back to you with the next steps. I always look forward to helping my neighbors in Wichita with their data recovery needs!
Thanks for reading!