RAID recovery is one of my favorite types of recovery. The recovery process can be pretty difficult and time consuming, but solving the puzzle and getting the data back feels especially rewarding. I am pleased to be able to offer an affordable RAID recovery option nationwide.
RAID 5 Recovery
I was in Wichita doing a drive pickup and brought my boys with me to make a quick stop at Vintage Stock in Towne West Square. The boys love going through the vintage games for our NES, and I love going through the vintage records and cassettes! It really is a super fun place to stop by and hunt for something you want. Anyway, while I was getting a few vinyl records, I got a call regarding this 6 drive RAID that needed data recovery. The call came from a shop that sends clients to me when the RAID recovery is something beyond what they can handle.
This SAS RAID was a RAID 5 with what was reported to be 1 drive not working properly out of the 6 drives present. With a RAID 5 you should be able to continue using the RAID with only 1 drive not working, so I figured there was either some kind of corruption or a second drive was having a problem as well.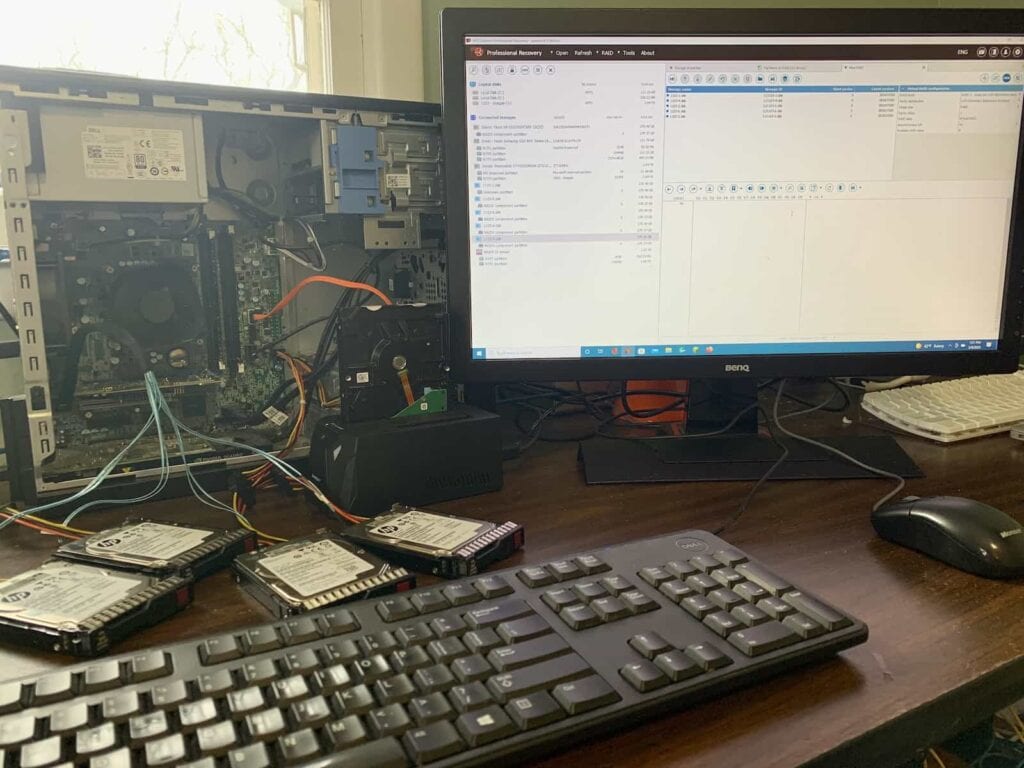 Starting the RAID Recovery Process
Once I got the RAID back to the lab, I started the process of diagnosing and imaging every drive. I was able to image 4 out of the 6 hard drives, but 2 out of the 6 were not working properly as I had suspected. 1 of the RAID drives had a ton of bad sectors, and the other was not powering on at all.
Out of those two, I liked the chances that the no power drive likely failed second. My thought process was that one of the RAID hard drives started to fail with bad sectors, but the RAID continued to work. Then the second RAID hard drive lost all power, which caused the RAID to stop working altogether. This thought process could have been wrong, but usually, if a drive has bad sectors the RAID will continue to work, just much slower and with errors. In this RAID recovery, the volume wouldn't mount at all.
Replacing a Failed PCB
Usually, the issue when a drive has no power at all is something with the PCB. I ordered a replacement PCB for the drive with no power and waited for it to arrive. Once it arrived I swapped it out and the drive spun up! I was able to image it 100% then continued to the software recovery to see if I was correct that this drive was the second one to fail and not the first.
Rebuilding the RAID
UFS Explorer was my software tool of choice for this RAID Recovery. I was able to rebuild the RAID configuration and the scan brought back the full folder structure with all metadata. I was able to check recently edited files and everything worked perfectly!
This RAID 5 recovery ended up being 100% successful and the client was very pleased with the results. It can be difficult to find an affordable RAID recovery option offered by a lab that actually knows what they are doing. I am pleased to be able to offer RAID recovery services nationwide through our mail-in recovery service.
Start a RAID recovery
Do you have a RAID setup that isn't working properly? Do you need the data back as soon as possible? You're not alone. Data loss happens to the best of us. I can help! I offer fast turnaround times, affordable pricing, and flat rates. Plus, our customer service is always friendly and helpful.
Please give me a call at (620) 615-6836 to discuss your recovery if you have any questions. Or fill out my quote form if you would like to get an idea of what the cost might be for recovery.
About Author