Anytime I hear that the most important data is Quickbooks and Excel files, I know I am dealing with a small business that really needs its data back! As a small business owner myself, I know exactly how important those business files are. Recreating them is usually possible, but the amount of time you invest in creating the files is overwhelming when you start thinking about having to create them all over again.
I am pleased to be able to offer affordable data recovery services for small businesses. I also have a rush or priority service if you need your data back as quickly as possible.
Dead Toshiba DT01ACA100 Recovery
This Toshiba drive came in from a family that had multiple small businesses locally here in El Dorado, Kansas. And they needed that data back as soon as possible to be able to pick up where they left off when the drive just stopped working.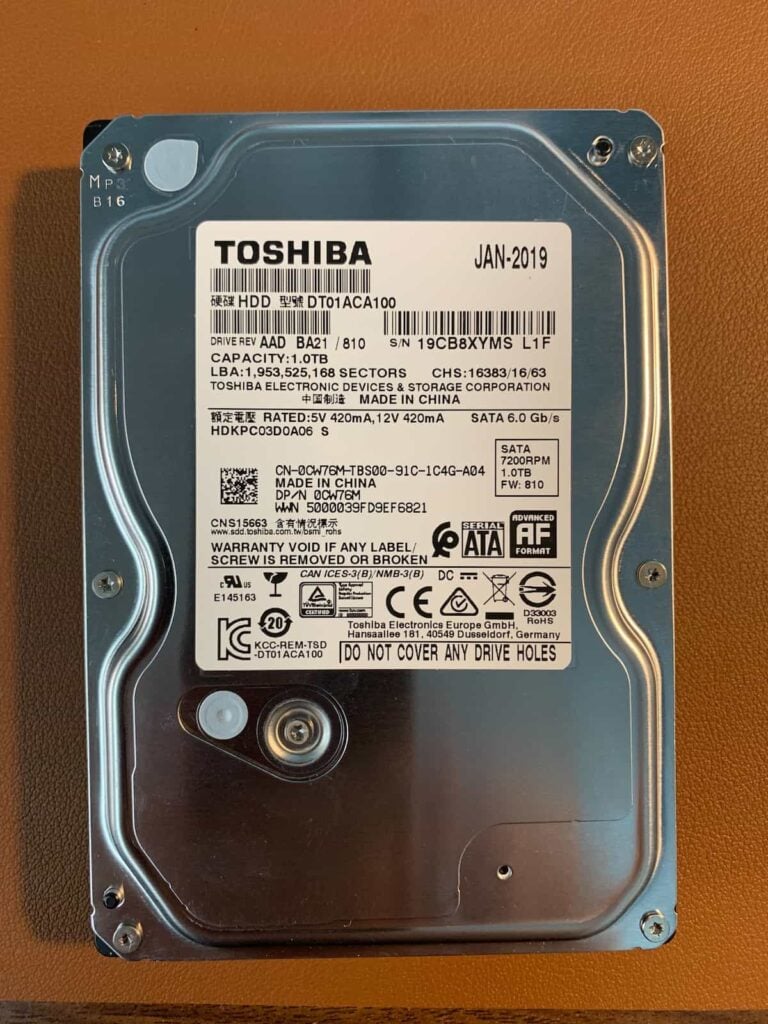 Diagnosing the dead hard drive
They reported that the Toshiba DT01ACA100 hard drive was completely dead. Once I had it in my possession I did a visual diagnosis and found that the heads were not parked as they should be inside the drive. Because the heads were not on the parking ramp as they should be, they had to rest directly on the platter surface when the drive had stopped working. They had become stuck on the platter, and needed to be lifted off the surface just a tad and moved over to the ramp where they belong.
Moving the stuck heads
Once the heads are on the ramp, you always want to remove the head stack and take a look at the heads under a microscope. Sometimes when the heads become stuck on the platter they will be damaged and should not be used again. Damaged heads can cause physical damage to the platter surface, which can make data recovery not possible.
In this case, the heads looked good under the microscope, so I got them re-installed and fired the drive up to start the imaging process. I always turn off features of the firmware that we don't need on during the imaging process, and once that was done, I continued with the standard imaging process using the PC-3000.
Imaging the drive
There were a few bad sectors on the Toshiba DT01ACA100 hard drive, but I was able to get 99.99% of the sectors, and 100% of the important files. All folder structure was intact, so this small family business was able to pick up the drive and literally start work right where they left off when the drive failed. The entire process (including transferring all recovered files to a new drive) took 3 days in total. The ability to complete a lab recovery quickly, efficiently, and most importantly, safely is something I am very proud of.
Getting your data back
Losing your business data can be a devastating experience. You may not know where to turn for help, or what the recovery process will entail. It can feel like everything is crumbling around you and you don't know who to trust, or what the recovery process will entail.
At our family-owned and operated data recovery company, we understand how important your data is to your business. We offer fast turnaround times and flat rate pricing, so you can focus on getting your business back up and running as soon as possible. Our cleanroom lab ensures that your data is recovered in the safest environment possible. And we are always here to answer any questions you may have. Just give us a call at (620) 615-6836. Or fill out our quick data recovery quote form.
Drive Info: TOSHIBA DT01ACA100, FW: 810, D'P/N 0CW76M, WWN 5000039FD9EF6821, JAN-2019, HDKPC03D0A06 S
About Author