These massive 5TB portable drives continue to amaze me even after seeing them for years. I grew up in a time where having a 1GB 3.5" drive was amazing, so seeing 5TB in such a small form factor is really impressive. Unfortunately, these awesomely large-capacity drives still fail in various ways! This Western Digital Data Recovery was a WD50NDZW model hard drive that came from a client that said the drive wouldn't mount on his computer any longer.
5TB Western Digital Data Recovery
The issues had gotten worse over time, but now the drive would not be recognized by his computer at all. He brought the external USB drive to a local repair shop to see if the issue was with his computer or with the drive, and the shop confirmed that the drive would not show up on any of their computers either. They said they thought the issue was likely with the PCB on the drive. They reported the drive sounded perfectly fine, it just wouldn't show up on their machine. The shop recommended Yellow Brick Data recovery as an affordable data recovery option.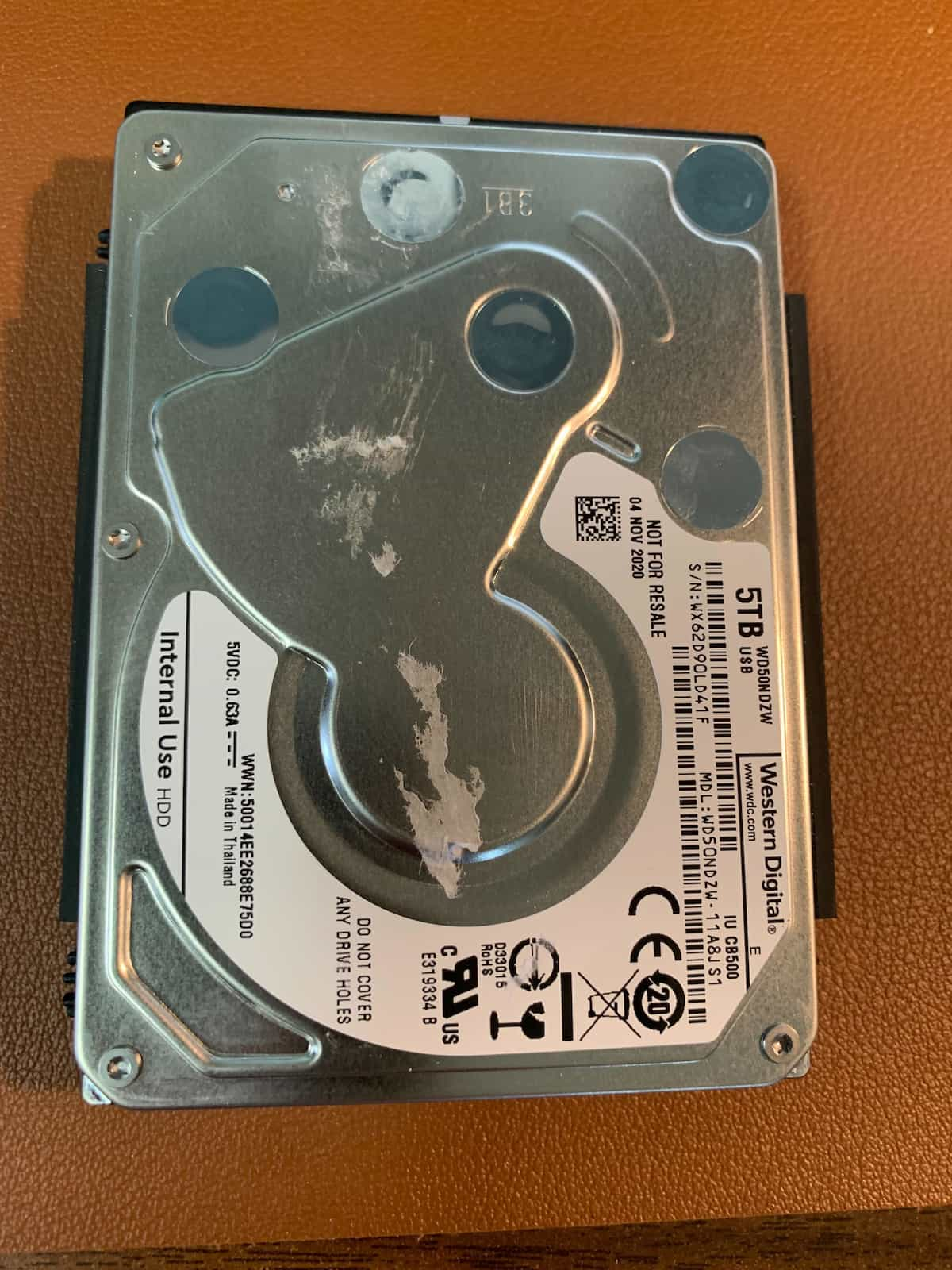 USB PCB on WD50NDZW
The PCB is usually on the bottom part of the drive. It is the "printed circuit board" which the board that holds the majority of the electronic circuitry of the hard drive. When a PCB starts to go bad your hard drive can have all kinds of issues, so having the drive not show up could absolutely be caused by this problem.
These WD50NDZW models have a USB port built onto the PCB, so there isn't a standard SATA port to connect the drive to the data recovery rig. For drives that are reported to not be mounting, but that sound normal, I usually start by connecting it through my USB Stabilizer by Deepspar. This is a great tool that allows you to work with USB drives when there is a problem with the drive that would usually cause the recovery to freeze.
Imaging the Western Digital Hard Drive
In this case, the sectors on the drive were accessible and I was able to start the imaging process right away. Since it was working without an error I continued with the imaging process until I had recovered 100% of the sectors on the drive. The next step would be to recover the actual files from the sectors that I was able to image.
Recovering the data from this WD50NDZW hard drive was very unusual. The software data recovery step is usually pretty straightforward and consists of me running my favorite data recovery software and making sure all the important files have been recovered. But there was partition corruption or some sort of similar issue on this hard drive which threw a bit of a curve ball.
Scanning for Data
I completed the first scan with UFS Explorer Pro, which almost always does an excellent job of recovering all folder structure and file names when the recovery has partition corruption like this one. The folder structure looked good, and the files all had file names as they should, but after testing the files I found that they all would not open. I moved the original clone over to a Mac and ran some of my Mac-based recovery software and everything was found and worked!
Transfering the Recovery Data
After transferring all the data to their new drive I called them up and let them know the recovery was a success. I ended up with 100% of the sectors recovered and 100% of their important files recovered and working properly. Because these 5TB drives take a while to image and move data, the whole recovery project took about 4 days to complete. Also due to the large drive capacity, this recovery was considered a Standard+ recovery.
Affordable data recovery services are available!
I am pleased to be able to offer affordable data recovery services to my neighbors around Kansas as well as everybody in the United States who wants to ship their drive to us for service. If you would like to use my recovery services, just contact me with any questions or set up a repair ticket by filling out my quick recovery form.
I offer recovery services for everything from hard drives to flash drives to even the occasional floppy disk. I look forward to helping you recover your data next! Thanks for reading!
Drive info: Western Digital 5TB USB, MDL: WD50NDZW – 11A8JS1, 04 NOV 2020, IU CB500, WWN: 50014EE2688E75D0, Made in Thailand
About Author