This dropped hard drive recovery features a Toshiba laptop drive that stopped working immediately after the drop. The drive was made in 2014 and has a 750GB capacity.
Toshiba Dropped Hard Drive Recovery
The drive was first brought to a computer repair shop that diagnosed it as having internal issues and needing a cleanroom recovery service. The shop was not equipped to handle this type of advanced lab recovery, so they recommended that the customer contact us for an affordable data recovery option. The customer called us and after discussing the project in some detail, they decided to drop it off for our cleanroom lab tier recovery service.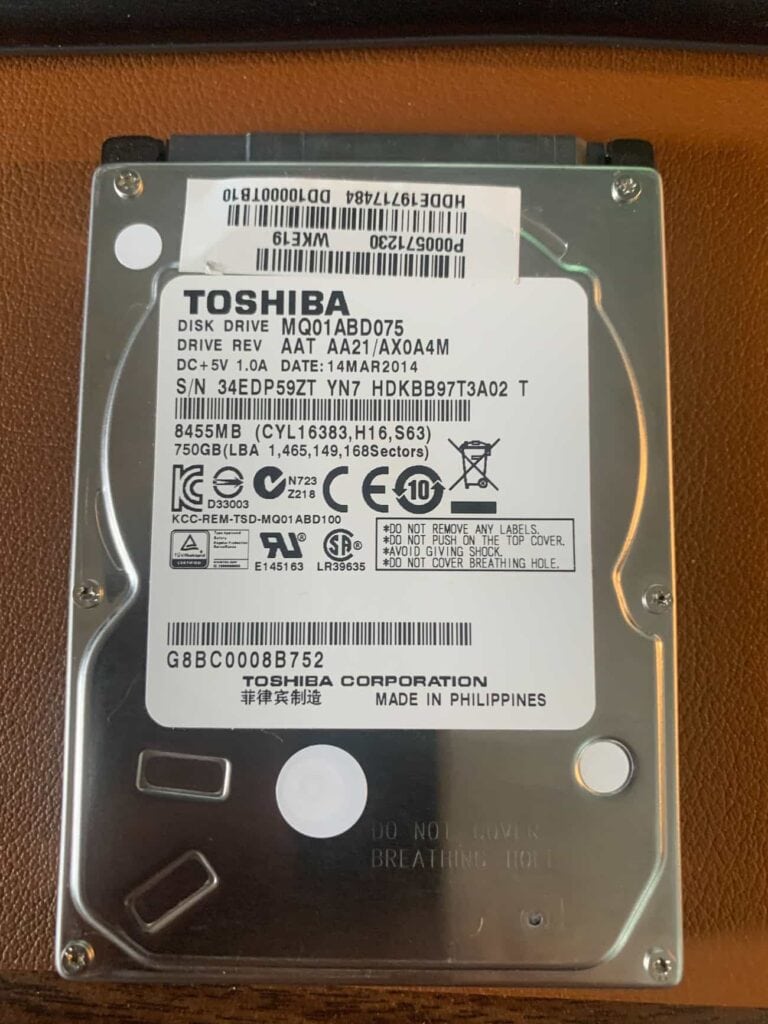 MQ01ABD075 Recovery Diagnosis
The first step with a dropped drive is to open it up and take a look at it under a microscope in a cleanroom environment. It is very important that a drive not be opened outside of a cleanroom environment so no dust or debris settles on the platters. During the inspection, you are looking for signs of platter damage, head damage, bent spindle, etc.
In this case, I could see that the spindle was bent and causing the platters to not spin at all. The best way to move forward with this type of issue is to complete what is called a platter swap. The surface of the platters looked great with no damage visible. This is a great sign as a dropped hard drive recovery can sometimes be unsuccessful when there is media damage present.
Swapping the platters
A platter swap is when you take the platters from the drive you are recovering and put them into a donor drive. The platters store all the data, so by moving them into a compatible drive, you are able to then read the data off the platters and save it to a new drive. Sometimes a difficult part of a platter swap is finding a compatible drive to move the platters into. In this case, I had a donor that was compatible with the platters, and I was able to successfully complete the platter swap.
There are a lot of things you need to pay attention to and know when you are doing a platter swap, so I really don't recommend trying it on your own until you have practiced at least a couple dozen times on practice drives. Keeping the platters aligned is important, and not touching the platters at all is extremely important. The platters are very easily damaged so the entire process needs to be completed with care.
Imaging the dropped drive's platters
Once the platter swap was complete I connected the drive up to the PC-3000 and configured it for imaging. It only took one pass to recover 100% of the sectors! I did a recovery scan on the image and found the data that was needed. All the recovered data was fully intact with all folder structures and filenames.
This type of cleanroom data recovery would oftentimes be quoted in the thousands of dollars by the big recovery companies. I am able to complete these recoveries under our affordable Lab flat rate pricing. We are one of the few companies that offer flat rate lab data recovery, and I like to believe we are one of the best.
Dropped hard drive recovery service
Drives that have been dropped oftentimes require additional knowledge and expertise to recover. If you have a drive that has been dropped and you need the data recovered from it, please give me a call to discuss the issue or submit this quick form for a quote. I look forward to working with you on your recovery project.
Drive info: Toshiba MQ01ABD075, Drive REV ATT AA21/AX0A4M, DATE: 14MAR2014, Made in Philippines
About Author